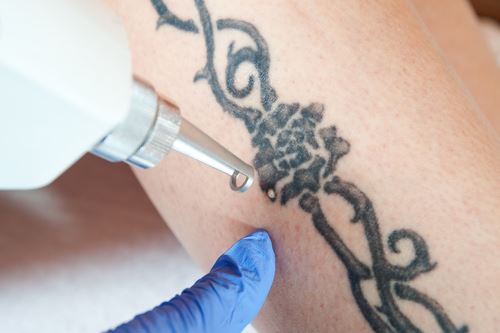 Getting a tattoo removed isn't easy, quick or cheap. However, depending on why you're considering laser tattoo removal, none of that matters. Before you rush to the nearest tattoo shop and start the process of getting yours removed, you need to do a little homework. Just like getting a tattoo, removing a tattoo is serious business and you shouldn't let just anyone do it. When you spend a little time and effort inquiring about different attributes, you'll be able to find the best tattoo removal specialist in Arlington and Alexandria, Virginia, with your safety and health in mind.
Ask About Their Laser
If the clinic does not use the Quanta Q plus C laser for removing tattoos, you should be leery of whether your ink will be removed completely and more importantly, safely. The Q plus C laser treats all tattoo colors and is the safest and most efficient laser on the market.
Ask About Their Qualifications
Anyone can learn how to operate a laser, but not everyone is qualified to perform laser tattoo removal. See how much training the specialist in question has gotten and what type of training it was exactly. Ask the specialist how long they've been in the business and how many tattoos they've removed throughout their career. If they are proud of their work, they will be able to show you plenty of before and after photos to back up their claims. Look for complex tattoos containing multiple colors located on parts of the body that would pose a challenge to the technician. Anyone who seems sketchy or annoyed by your questions should probably be avoided at all costs.
Make Them Explain the Procedure in Detail
The laser tattoo removal process is difficult from start to finish. Your prospective specialist should be able to explain the entire procedure to you, from the preparation all the way until the final appointment. It's important to know the process will take multiple visits, no matter what, so you should be skeptical if the specialist tries to sell you on speediness. This isn't a process to rush.
Do Your Own Research So You Can Ask Good Questions
You can do plenty of online research about laser tattoo removal to get familiar with the process. Learn as much as you can about the lasers used in the procedure so you can ask the specialist educated questions. The tattoo removal specialist should be knowledgeable enough to answer any questions you have, no matter how technical it is. If you see any red flags or signs they may not know exactly what they're talking about, you should consider other alternatives.
At Skin Deep Laser Services, we offer a vast range of experience with laser tattoo removal and are proud to show you as many before and after photos as you want to see. For more information, or to book an appointment, contact us.