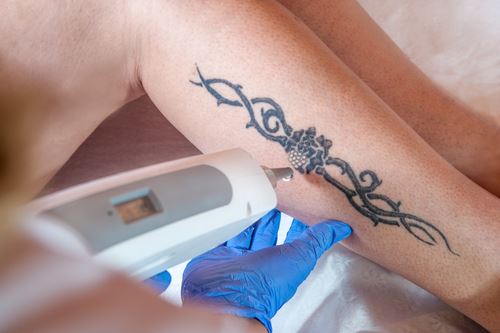 Cynosure is the company behind the marketing and selling of the tattoo removal machine called Picosure. The company began offering the machine for sale in 2012 when it was approved by the United States Food and Drug Administration. However, their marketing efforts were highly misleading.
The current Picosure lawsuit claims that multiple consumers were led to believe this was the best laser tattoo removal machine on the market, since that's how it was advertised. However, consumers quickly realized it was not only not the best machine, but it was nearly completely ineffective.
Misrepresentation Is The Biggest Issue
The biggest problem surrounding the Picosure lawsuit is the company represented the machine as being able to remove virtually any tattoo. They even provided before and after photos of tattoos being removed, even though the photos were not actually real-life scenarios. Tattoo parlors and other companies bought into the tattoo removal laser, thinking they would be able to offer their customers the best possible product. This was simply not the truth.
Some parlors even stated the Picosure machine burned some of their customers' skin. The lawsuit indicates they wouldn't have bought the machine if they knew it was a danger to their customers, wouldn't work as advertised or they would have paid only a fraction of the cost for it. Damages are believed to be around $5 million for the lawsuit.
Cynosure Did Not Offer Refunds on Their Lasers
Possibly the worst part about the Picosure lawsuit is it states Cynosure refused to offer refunds to their consumers, even though they knew the product they sold was ineffective. They even went as far as integrating a software upgrade, seemingly acknowledging that the product didn't work. But even after the upgrade, consumers still didn't get the results they were led to believe would happen.
Why Picosure Isn't The Best Tattoo Removal Option Anyway
The Picosure laser makes some aggressive claims when it comes to tattoo removal, but there's actually another tattoo removal laser on the market that's even better. The Quanta Q Plus C laser uses better technology and is much more effective, quicker and more affordable than the Picosure laser.
This laser provides the safest and most effective treatments for removing tattoos, and the best part about it is it can remove all tattoo colors. And the laser is also backed by results rather than just advertising.
At Skin Deep Laser Services, we offer only the best laser options in the Fairfax area. Whether you need a tattoo removed, unwanted hair removed or acne scar revision, we offer the top-of-the-line lasers to get the job done at the best cost possible to you. Be sure to contact us to learn more about the disadvantages of the Picosure laser and how our lasers can help treat you.