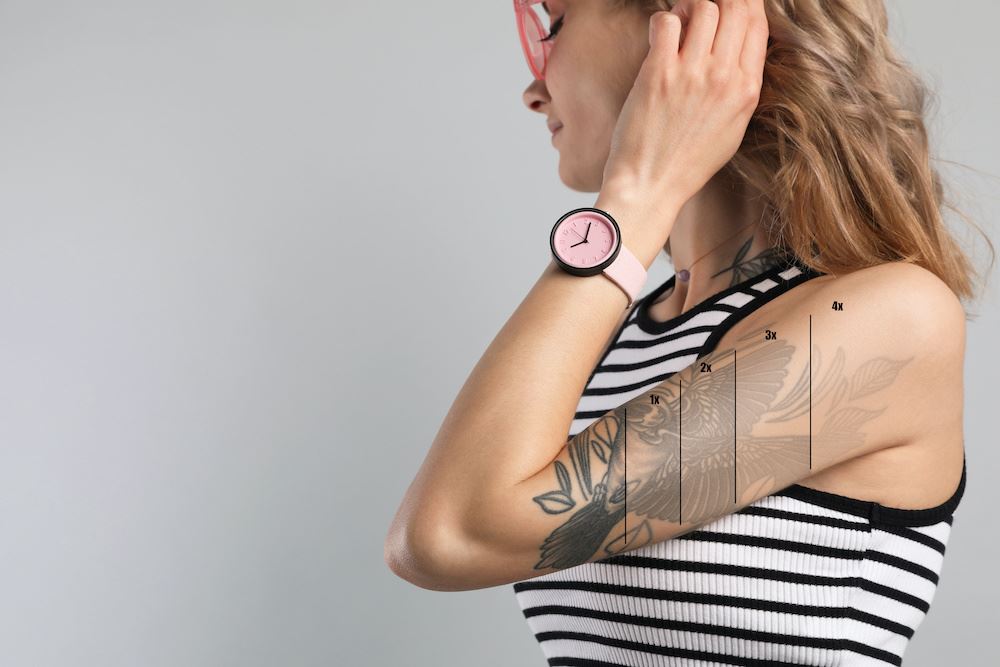 Removing an unwanted tattoo can be tricky, so working with a reputable and trustworthy professional is ideal. Not only can they remove your tattoo effectively, but they can prepare you to have a great experience before, during, and after each session. One of the main things to consider about laser tattoo removal is its best to begin treatments in the fall, shortly after your summer adventures are complete. Laser tattoo removal and sun exposure are not a very good combination, and here are some facts to consider.
Laser Tattoo Removal Is Not As Effective After Sunlight Exposure
While it's still possible to get a laser treatment for tattoo removal after excessive exposure to sunlight, the results won't be nearly as effective. Sunlight exposure increases melanin and vitamin D production in the body. The melanin increase is an issue to consider since it weakens the pigment, which can make the skin less protective and receptive during the laser tattoo removal process. So not only is the process less effective, but it could also cause some damage to your skin if it has been recently exposed to harsh sunlight.
Reduce Tattoo Removal Sessions By Decreasing Sun Exposure
It's ideal to have your skin as close to its natural color as possible before undergoing laser tattoo removal treatments. As you're coming out of the summer season, this could mean waiting anywhere from four to six weeks before beginning treatments. Doing so will make your skin more receptive to the laser treatment so you won't have to go through as many sessions. Not only will this save you money, but it will also keep your skin healthier. Your laser tattoo removal professional can let you know exactly how long you should refrain from prolonged sunlight exposure when you visit them for a consultation.
Fall Is The Ideal Season To Remove Tattoos
So why is fall the ideal season to remove any unwanted tattoos? Simply put, the UV rays aren't nearly as harsh during the fall as they are throughout the summer. So even when you are outdoors, the sun doesn't have the same impact on your skin. And since summer vacations are likely over, you won't be spending as much time outdoors anyway. It's important to keep the treated area as clean as possible, which can be very difficult to do during an active summer.
Another reason to begin laser tattoo removal treatments in the fall is that multiple treatments will be required. And those sessions will need to be spaced out over several weeks. So as fall transitions into winter, you'll be covering up your skin more during the cold weather, which will help the recovery process after every treatment. The goal is for your tattoo to be removed and your skin to be healed by late spring when you'll start spending more time outdoors again.
Water Exposure Can Lead To Infections
Most people don't go swimming or take visits to the beach during the fall, which is another reason why it's a good time to get a laser treatment for your unwanted tattoo. Water has bacteria in it, which can lead to infections in the treated area. This can slow down the process and potentially leave your skin with permanent scars long after the tattoo is removed. It's best to stay out of water completely, except for taking a shower to keep your skin as clean as possible.
How Long Does The Laser Tattoo Removal Process Take?
The laser tattoo removal process is quick and easy for professionals, but the time it takes depends mostly on the tattoo's size. For a small tattoo, a single session could take a matter of seconds. But for larger tattoos, you can expect your professional to take several minutes on it. Your skin will look frosted for about 20 minutes after the treatment, which will subside naturally. You could also experience some swelling, redness, and pinpoint bleeding, all of which are normal and will subside in several hours. So while the actual laser treatment might only take a few minutes, it's the recovery process in the days following the treatment that you should be very cautious about.
Always Work With A Qualified Laser Tattoo Removal Professional
If you've looked at any laser tattoo removal before & after photos, you'll see that some are successful and some aren't. Many people claim to be experts in laser tattoo removal but don't use the right equipment or procedures to remove tattoos correctly. This is how you can distinguish the bad results from the successful ones. When dealing with your skin, you don't want to work with anyone off the street who promises they can make your tattoo disappear overnight. Always seek reputable professionals who will answer any questions you have and show you legitimate successful laser tattoo removal before & after photos.
Schedule A Consultation Now To Be Ready For The Fall
With the summer winding down, now is the time to schedule your initial consultation with a laser tattoo removal professional. When you reach out to Skin Deep Laser Services, our team will thoroughly evaluate your skin and tattoo to ensure the appropriate treatment is administered. We will also estimate a timeline for when treatments should be given and how many will likely be required. Our goal is to ensure you have all the information you need to have a successful laser tattoo removal experience.
Your journey to removing your unwanted tattoo begins with a consultation with our team, so contact us today to schedule yours.