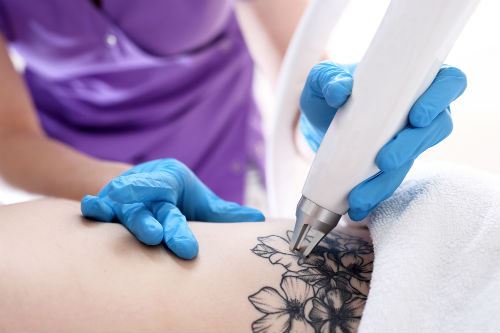 There's a lot of information on the Internet about tattoo removal methods. Unless you speak to a certified tattoo removal professional in Fairfax, Alexandria, Annandale or Springfield, Virginia, it's difficult to know what you should believe and what are simply myths.
One of the common questions asked about the different procedures is "does tattoo removal work?" The answer varies among different procedures, but you can't believe everything you read. Here are some of the most common myths about the laser tattoo removal procedures.
Myth: It Shouldn't Take Long To Remove My Tattoo
Some clients think they can sit in the chair, have the laser zap their tattoo and be on their way with clear skin in a matter of minutes. This simply isn't realistic. Lasers are the most effective means of removing tattoos, but they don't have superpowers like that. Most tattoos require multiple treatments spread out over several months, and the length of each session depends on the size of the tattoo, the location and other variables.
Myth: Some Tattoos Are Impossible To Remove
Some colors of tattoo ink are more difficult to remove, but laser technology today can remove virtually any tattoo, no matter the color or age. Of course, the length of each session and the amount of sessions required may increase, but your tattoo will eventually disappear.
Myth: The Pain of Tattoo Removal Isn't Worth It
The most common question about different processes in general is "does tattoo removal hurt?" The simple answer is, if you dealt with the pain of getting the tattoo in the first place, then you can deal with the pain of removing it. Laser tattoo removal procedures will actually be less painful and have fewer side effects than installing the tattoo originally, in many instances.
Myth: Lasers Leave Scarring on The Skin
Lasers only target the outer layers of the skin, so scarring is very rare. Just take a look at the many before and after tattoo removal photos to see the results. As long as you go to a certified professional using the best lasers on the market, scarring shouldn't be an issue.
Skin Deep Laser Services is the most trusted facility for tattoo removal in northern, VA. Our before and after tattoo removal photos speak for themselves, but we always take each individual client seriously and understand each situation is different. Be sure to contact us to see how our laser tattoo removal procedure works, so we can dispel any myths you may have heard.