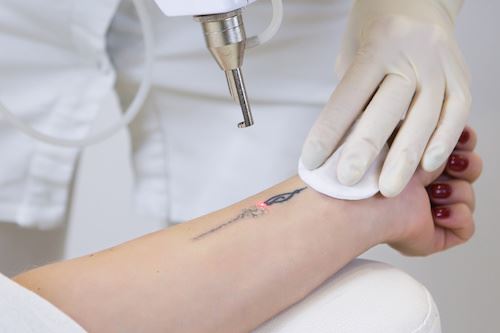 Goblin No More!
I wanted to get my tattoo removed. The koi tattoo design I had always loved turned into what looked like some goblin that melted with acid, probably because I experienced extreme weight changes. When I had my tattoo inked, I was average weight. And then I got sick and became really thin. During recovery, I became overweight because of too much food intake. It took a while to have been able to reduce my weight to normal, but I was able to do it. Because of these changes, the tattoo just morphed. So I went to Skin Deep Laser in Burke, Virginia for a laser tattoo removal treatment.
The center is brand new with high-tech equipment that specializes in skin treatment services by way of laser technology. I was greeted by a very welcoming and professional technician, Christina. She explained her facility uses the Quanta Q plus C Laser for tattoo removal. She referred to it as the "Ferrari" of lasers for tattoo removal, and not only because the machine is manufactured in Italy, but because of its unmatched rivalry in the laser tattoo removal industry.
There are three things you should know about this procedure.
One, the treatment doesn't necessarily finish in one go because of the amount of tattoo you have and your immune system. I can't explain the actual science behind the reasoning like the specialist can but just know that this tattoo removal treatment is unique for every person. It is best to consult with a specialist like I did so that you get a good understanding of expectations. There seems to be a lot of hoopla on the internet around how many treatments are needed to remove a tattoo, go see a specialist who uses the best laser available! The ask about treatment sessions.
Second, this laser energy that they use is really safe and effective but it does hurt a bit. The pain isn't unbearable, it's more of an uncomfortable sensation, like a rubber band slap. A lot of companies out there advertise a "painless removal process"… this is BS! It seems like common sense that my tat hurt like hell to get, why would it be painless to remove???
Third, the treatments are not as pricey as you would assume. The technology they use does not look cheap, but this center offers treatment packages that help to reduce the cost. Like me, you don't want to sacrifice safety and quality just because of the cost.
Between my consultation and treatment, I researched the Quanta Q plus C tattoo laser. This really is the gold standard in laser tattoo removal technology. My first treatment went extremely well, I can already notice my ink fading! The sad part is that I have to wait a few more weeks for skin to heal before my next treatment.
Having my laser tattoo removal treatment done at Skin Deep feels like a great decision so far. I had a great experience. I couldn't think of any other way to have the procedure done as smoothly and amazing as they did. Thank you Skin Deep Virginia!