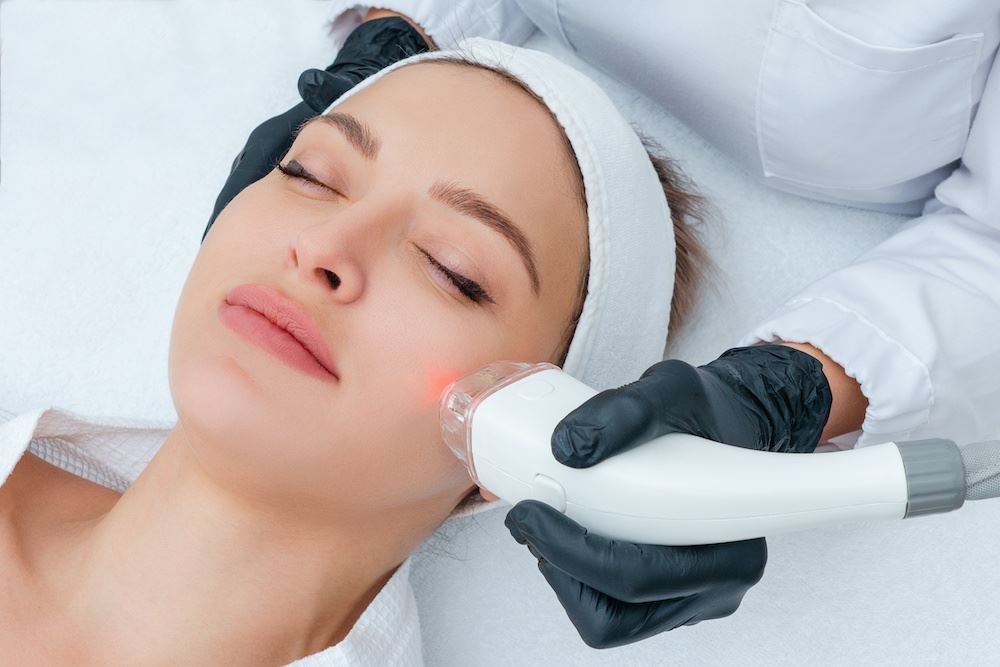 Have you had skin concerns you've put off addressing for many years because you didn't want to go through surgery? Or have you maybe just noticed some new fine lines and wrinkles you've developed as a result of getting older? The good news is with the laser technology available today, you can get virtually any skin concern taken care of without going under the knife.
In many situations, clients have seen dramatic results with a single laser treatment. However, most of the time multiple treatments are required to achieve the desired final result. But since a laser treatment is not nearly as invasive as surgery and requires virtually no downtime, depending on the type of treatment, multiple treatments aren't a big burden for most people. We've explored some of the options available to you when you're ready to address your skin concerns with modern laser technology.
Benefits Of A Fractional CO2 Laser Treatment
A fractional CO2 laser treatment has plenty of benefits and can address numerous skin concerns. If you want to look roughly ten years younger without having to deal with needles or cutting on your skin, then a fractional CO2 laser treatment is a worthy option. It's a perfect procedure if you want to get rid of wrinkles, fine lines, skin elasticity, pigmentation, and improve skin texture and acne scarring.
The process of a fractional CO2 laser treatment works when your medical professional uses a laser beam to penetrate deep into the layers of your skin. This creates very small spaced columns in the skin that looks similar to a polka dot print. Your body will then naturally work to repair those small columns by growing new skin and pushing out the old and damaged skin. The great thing about a laser treatment is it's targeted, so you won't have to worry about any of your healthy skin getting damaged or having to heal along with the treated area.
Arguably the best part about a fractional CO2 laser treatment is it naturally activates and stimulates elastin and collagen production in your body. This means a single laser treatment can continue to show benefits for months later. And when you have several treatments spaced apart, you'll see benefits for years to come.
The PHYSIQ Laser Offers Top-Of-The-Line Technology
Sometimes no matter how hard we exercise or stick with a strict diet, we still can't get rid of stubborn areas of fat. Weight loss can lead to loose skin or certain areas of the body looking less attractive than others. When you're ready to remove those stubborn areas, the PHYSIQ laser and experienced medical professionals can help. PHYSIQ laser technology is FDA-approved and is unique since it provides laser energy and muscle stimulation, which no other laser technology can claim.
The PHYSIQ laser uses Sequential Thermal & Electrical Pulse (STEP) technology to let medical professionals make every treatment comfortable and targeted for clients. By combining heat and energy, the PHYSIQ laser can help to reduce fat, tighten the skin, and tone your muscles. The results could last indefinitely, and you'll feel very minimal discomfort during the treatment and enjoy no downtime following the treatment.
VirtueRF Treatments Reduce Wrinkles, Fine Lines, And More
One of the newest pieces of laser technology on the market today helps to make laser treatments even more effective and simpler. With a VirtueRF treatment, clients can enjoy longer-lasting results and the laser treatment appointment is much quicker due to the efficiency of the laser. The main goal of a VirtueRF treatment is to naturally stimulate collagen production to significantly reduce fine lines and wrinkles. By doing so, clients can experience results for many months afterward since collagen production will continue long after the treatment has concluded.
The VirtueRF device medical professionals use contains 36 gold-coated needles that are inserted at a precise depth into the skin. The great thing about the treatment is it's virtually pain-free for clients and they can resume normal activities immediately following their appointment. The built-in safety features on the VirtueRF device mean clients will always have a safe and comfortable experience and achieve the best possible results.
Look And Feel Your Best With Laser Treatments
When you choose laser technology instead of surgery to address any skin concerns on your body, you'll not only achieve better results, but you'll also have less downtime. Surgery can require a lot of preparation time and then you'll need to alter your normal lifestyle during the healing process. Most of these inconveniences are eliminated with a laser treatment. Many people can get treated during their lunch break and return to work immediately after the treatment. However, if redness or skin sensitivity are concerns, then you can consider resting for a few hours before resuming normal activities. But most clients agree that a few hours of healing time is much more preferred over a few days or weeks associated with surgery.
Skin Deep Laser Services offers the best laser treatments available because our clients deserve the best. At your initial consultation, we will discuss your concerns and desires and ask you important questions to help us determine the best treatment for you. We also encourage you to ask our medical professionals questions about the treatment options since we don't want you to be surprised at anything. Transparency is what we strive for and we will take the time to ensure you are comfortable and educated on the laser treatment chosen. No matter what your skin concern is, we are here to help. Don't hesitate to contact us at any time to schedule an initial free consultation and you'll be on your way to having the skin you've always desired in no time.