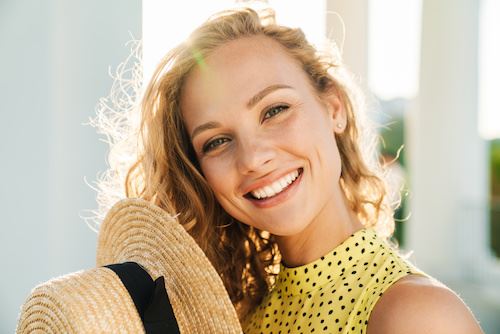 If you have a goal of improving your skin this year, now is a great time to start if you haven't already. The spring season is here and the temperatures are beginning to warm up. Many times the secret to having flawless skin is having a skincare routine you stick to no matter what. It's easy to neglect your skin when you're out in the sun or on an extended vacation. And if you have any pre-existing skin concerns, then getting a fractional CO2 laser treatment, acne scar revision or other treatment may be what you need to start off your spring the right way. These tips can help you improve your skin this spring and beyond.
Develop A Quality Skincare Routine
Think about your current daily skincare routine. Do you wash your face in the morning? How often do you touch your face throughout the day? And how about your sunscreen usage? Too many people neglect these tips and take actions that are detrimental to their skin's health. For starters, beginning the day by washing your face with warm water and a gentle cleanser can remove the grease and oils that came out of the skin overnight. Consider also taking the cleanser with you so you can wash your face throughout the day if you will be exercising or sweating for any other reason. Excessive sweat and oily buildup on the skin can cause acne breakouts and potentially lead to the need for an acne scar revision treatment if not addressed.
Moisturizing the skin is also a great habit to get into. Start by moisturizing the skin in the morning and keeping some with you during the day in case your skin dries out. Moisturizing at night before you go to bed is also ideal since the body loses moisture throughout the night. And if you plan on being out in the sun for any length of time, wearing sunscreen can protect the skin from sun damage and reduce the risk of developing signs of aging more quickly.
Address Any Chronic Skin Conditions You Have
Chronic skin conditions can get much worse if you don't address the issues appropriately. Some of the common chronic skin conditions that can benefit from a great daily skincare routine include acne, psoriasis, rosacea, eczema and more. For many chronic skin conditions, it's best to get a recommendation from your medical professional to determine how to improve them since daily creams, moisturizers and similar products could make the condition worse.
If you deal with acne and constant acne breakouts, there are some steps you can take on your own to reduce the severity. Washing your face a couple of times each day with a soft washcloth and a gentle cleanser is a good place to start. Take caution when exfoliating since doing it too much can actually damage healthy skin and make your acne scars worse. Sunscreen should be something you wear all the time, as well as a balanced moisturizer. The American Academy of Dermatology offers some tips and helpful advice for controlling your acne as well.
Rosacea can be difficult to live with because of the constant flare-ups, but the good news is it responds well to preventive care. This includes understanding what triggers your rosacea, avoiding skin care products that dry out the skin, using cleansers and moisturizers with mild ingredients and protecting your skin from the sun. Moisturizing your skin every day is one of the best things you can do, according to the American Academy of Dermatology. The same preventive measure may not work for everyone, so try different techniques at the recommendation of your medical professional.
Take Steps To Improve Your Skin Tone And Texture
Treating any existing skin condition can help jump-start your spring and put you on the right track for smooth and healthy skin throughout the summer. The pro yellow laser for rosacea can significantly reduce your flare-ups by removing the excess skin and blood vessels so they won't swell as much. In fact, in as little as three treatments with the pro yellow laser for rosacea, clients have seen as much as a 75% reduction in redness.
Acne scar revision treatments may be beneficial if you have damaged skin due to recent or past acne breakouts. A fractional CO2 laser treatment can address various types of scars and a session only takes around 30 minutes to complete. The acne scar revision treatment works by sending a laser beam through the skin and targeting the affected areas. The laser creates tiny columns in the skin, and then your body naturally works to repair those columns by pushing out old skin and replacing it with new skin. The result is smooth and clear skin with your acne scars significantly reduced.
Be Healthy From The Inside Out
Eating healthy foods and exercising can improve your skin as well. Hydration is key, as well as eating various nutrients and vitamins throughout the day. Hydrated skin sometimes has a different glow to it compared to dehydrated skin. Working on your body from the inside out means being careful with what you put in your body so you'll see great results on the skin level. And always try to get the recommended eight hours of sleep to allow your body to reset and recover after a long day.
Visit Your Medical Professional For Specific Recommendations
Everyone's skin is different, so visiting your medical professional is ideal before making any drastic changes to your skincare routine. An acne scar revision treatment may be exactly what you need, but your medical professional could suggest other skincare techniques to try before getting treated. While most people will qualify for a fractional CO2 laser treatment, there could be some complications depending on your health and medical history. Your medical professional will ensure they recommend the safest treatment possible to get your skin back on track.
Skin Deep Laser Services enjoys seeing people feel comfortable in their skin and we are happy to play a role in it. Whether you have a chronic skin condition or simply want to clear up age spots or fine lines, we can help. We use top-of-the-line technology so our clients will experience the best possible results. To get your spring started on the right track, contact us today to schedule a consultation and begin improving your skin.