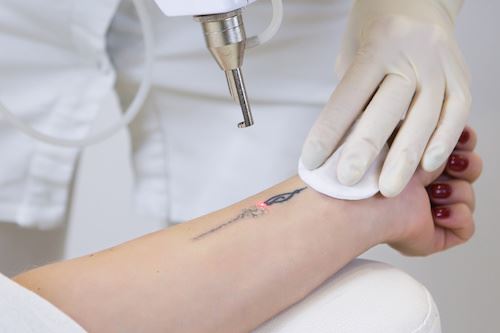 About half of the people who get a tattoo at some point in their life will want it removed later on. So if you are looking to get an unwanted tattoo removed, just know you're not alone. When you begin the process of looking for the safest and most effective ways to remove your tattoo, you'll likely see there are many options available. However, many of these over-the-counter products you see may actually cause permanent skin damage that looks worse than the original tattoo did. The safest way to remove a tattoo is with quality laser treatments. This guide will help you understand how it works and the steps you need to take.
Select A Certified Laser Tattoo Removal Specialist
The first step is finding a reputable laser tattoo removal specialist to perform the procedure. A certified specialist will have gone through extensive training to understand the different layers of a tattoo and how to remove it. They will also use top-of-the-line equipment to safely and precisely get rid of your tattoo. You should always ask to see some of their laser tattoo removal before & after photos to get an idea of their work. If they are unwilling to present you with any, then you should move on to a different option.
How Laser Tattoo Removal Works
The laser treatment will target the individual ink colors using nanosecond pulses to break up the ink particles. As the skin works to repair itself, the colors will slowly start fading away. The laser treatment itself only takes a few minutes, but the process of removing the ink continues over several weeks. In most situations, you can schedule additional treatments 2-3 months after getting treated. Multiple treatments will likely be required, so speak with your professional to get an idea of how many treatments are required for your tattoo.
Follow The Professional's Advice For Best Results
Every tattoo is different and every person's skin and body react differently to a laser treatment. While laser tattoo removal is the safest way to remove an unwanted tattoo, it's still a serious procedure that requires care and attention. Your professional will likely suggest staying out of the sun after getting treated as well as provide other aftercare tips. Not following this advice can lead to your tattoo not fading away as quickly as you would like, or possibly even damaging your skin.
Skin Deep Laser Services uses the Quanta Q Plus C laser for tattoo removal, which is widely known as the safest and most effective laser on the market. We understand most clients take laser tattoo removal cost into consideration when selecting a provider, so we offer competitive rates and unmatched quality and service. Not only will we use our expertise to make your tattoo fade away as quickly as possible, we will also go to great lengths to ensure you are safe in the process. Don't hesitate to contact us at any time to schedule a consultation to discuss the laser treatment plan for removing your tattoo.