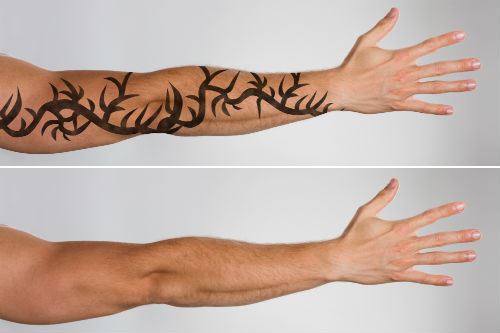 Getting rid of an unwanted tattoo today is easier than it has been in the past with all the advances in technology. However, you still want to ensure you use the best laser possible when going through your laser tattoo removal procedure. You may have heard different horror stories about people going through the process and ending up with skin looking worse than they've ever had. But when you choose the right medical professional using the right laser technology, the process will be as seamless as possible and you'll be more likely to be pleased with the results.
Benefits of the Quanta Q Plus C Laser
The Quanta Q Plus C laser is known today as the best laser on the market for tattoo removal. It works by penetrating the skin with a nanosecond light to break up the ink particles present in the tattoo. This allows your body's immune system to naturally remove the pigments over a period of time. And the best part about the Quanta Q Plus C laser is it only targets the skin where the tattoo ink is present, so the surrounding skin will be left untouched and unharmed.
What About The Picosure Laser?
You may have heard of the Picosure laser if you've done any research on laser tattoo removal procedures. The downfall of this laser is many of the claims made don't necessarily come true. It is proven to not be able to treat all tattoo colors and the cost is significantly higher than a Quanta Q Plus C treatment. Many clients have left with damaged skin when a Picosure laser was used for their tattoo removal.
Safety Concerns With Laser Tattoo Removal
The main safety concerns with removing your tattoo can be alleviated by using the best laser and the best medical professional. Before you get your tattoo removed, ask to see before and after tattoo removal photos from recent cases, so you can get an idea of what your results will look like. Also be sure to follow the recommendations from your medical professional when it comes to caring for the treated area following the procedure.
Skin Deep Laser Services uses the Quanta Q Plus C laser when removing tattoos for clients in the Alexandria, Annandale, Fairfax and Springfield, VA areas. Safety is our number one concern for our clients, and we will always work to deliver the best results possible. Be sure to contact us today to schedule a free consultation to learn more about our laser technology and how it can be used to get rid of your unwanted tattoo safely and effectively.