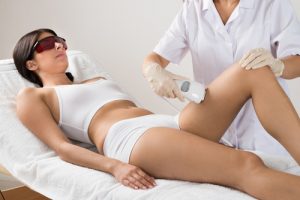 If you've never been on a cruise before, you owe it to yourself to go on at least one. If you've been on one or more, you know exactly what we mean! It's an experience, let us put it that way, and with fly cruise deals being offered everywhere, a lengthy stay on a cruise is not that expensive either. Cruise season is just around the corner and it's never too early to begin preparing for your next adventure. Some people like to go on cold weather cruises, but the most popular cruises are to warm weather climates. At this point, you may be wondering how laser hair removal fits into your cruise plans. Continue reading to find out.
Start your spring cruise off the right way with laser hair removal!
Spring is the Best Time to Cruise
There's nothing better than going on a warm cruise to escape the colder temperatures you've experienced over the last few months. Spring is the perfect time to go on a cruise, since it won't be too hot or too cold. Many people consider spring break the start of the cruise season. Whether you are a college student with a lot of friends or a family with children, there's a cruise ship waiting for you.
Preparing for Your Next Cruise
Preparing for your cruise in advance will make it more enjoyable when you get there. Of course, packing your essential items is important, but there are other things to consider too. Did you pack on some extra pounds over the winter? Have you not groomed your legs as much lately?
These are questions you should ask yourself now and decide what you need to do to resolve them. For some people, laser hair removal is a great option to get the spring started the right way. Today's standard laser hair removal procedures are virtually painless, and you won't have to worry about constantly shaving your legs, so don't worry about packing your razor and shaving cream!
Make Sure Your Skin is Ready
Whether it's laser hair removal, acne scar revision or anything else, you want to make sure your skin is ready for cruise season. It's easy to get lazy during the winter months and not take care of your body as well as you do during the warmer months. Sometimes all it takes is a little skin care to transform your body quickly.
If laser hair removal is an option you're considering in the Arlington, Springfield or Fairfax, Virginia areas, be sure to contact us to get all the information you need to be ready for your next spring cruise!