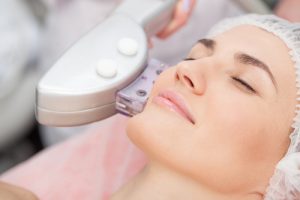 Everyone has different reasons for considering laser skin resurfacing. Whether you have acne scars, wrinkles, discolorations or other signs of aging, this procedure could be effective for you. However, before you run to a skin care clinic in Fairfax or Alexandria, VA, you need to know a few things about the process to make sure it's right for you. Here are a few tips to consider and understand about the laser skin resurfacing procedure.
Laser skin resurfacing is one of the most popular cosmetic procedures. Here are some of the most important facts about it.
Non-Surgical and Safe Procedure
You won't have to worry about going under the knife with laser skin resurfacing. The laser technology will target the affected areas to eliminate wrinkles, pigmentation issues, stretch marks, acne scars and more. The lasers send a beam through the skin layers in order to remove the old skin. At that point, the body will naturally begin growing new skin, which will look healthier and smoother than before.
Not Everyone is a Good Candidate
Your skin health, any skin damage and skin tone are all determining factors when it comes to the effectiveness of the laser skin resurfacing procedure. Generally, people with a lighter skin tone will have better results. From a health standpoint, people who have immune system disorders may not be the best candidates. Since the healing process is extensive afterward, people with these types of disorders have a much more difficult time recovering.
Minor Side Effects Are Common
It's important to understand the side effects associated with laser skin resurfacing. You will experience a little bit of pain during and after the procedure, but nothing significant. As your new skin begins to grow, you will likely see pigment changes, redness and swelling. Many of these side effects will subside in a few days, but some can take up to a month to be completely gone.
The Results Can Last For Years
With a successful laser skin resurfacing treatment, and proper care afterward, you can expect the results to last for many years. After about six months following the treatment, you should have better looking and smoother skin. Depending on your lifestyle and how well you take care of your skin, based on your provider's recommendations, your new skin could potentially look new and healthy the rest of your life.
Laser skin resurfacing is an effective procedure for people who want to look younger and eliminate blemishes. Be sure to contact us to learn more about the procedure and to set up a free consultation to see if you're a good candidate.