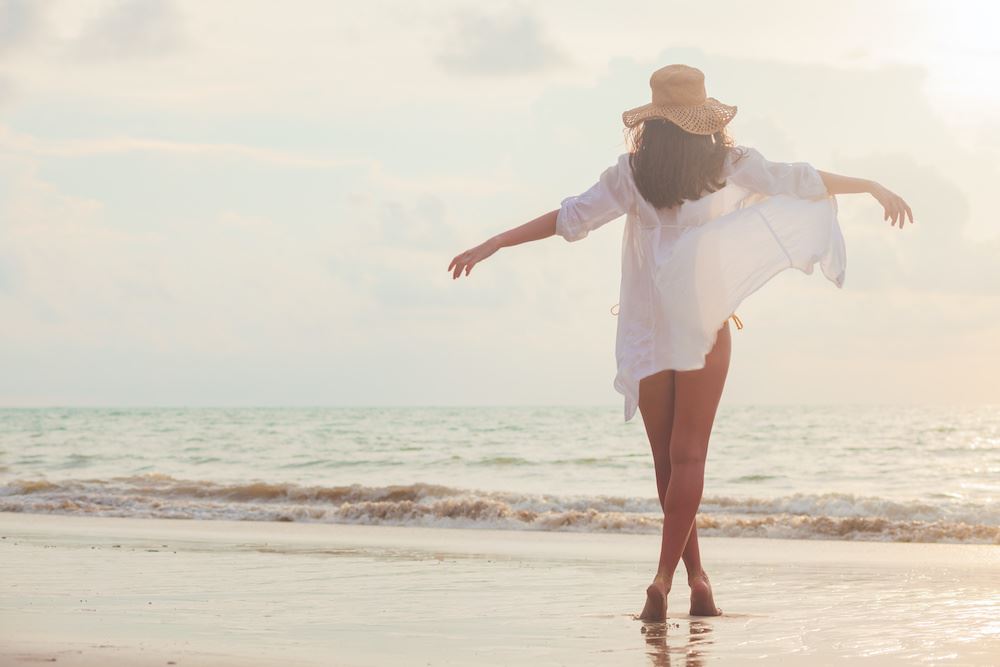 It's hard to think about the summer when you're still bundled up in your thickest coats during the winter. But the cold temperatures will leave eventually and you want to have your body ready for summer as soon as it gets warmer. If you've considered a permanent hair removal option, laser hair removal treatments are the most effective way to accomplish it. And for best results, consider starting treatments now instead of waiting until the summer. We've explained why and what you need to know about laser hair removal.
Why Laser Hair Removal Is Easiest During Winter And Spring
The best laser hair removal treatments target individual hair follicles. The lighter your skin is and the darker your hair is, the more effective the treatments will be. Typically, people have lighter skin colors during the winter and spring since they haven't spent much time in the sun with their skin exposed. And when you spend time in the sun, the color of your hair can get lighter, which can make permanent hair removal treatments slightly less effective.
In addition to having more contrast between your skin and hair, doing laser hair removal treatments during the winter and spring makes it easier to prepare. You shouldn't wax or pluck your hair for four to six weeks before your treatment, but the area should be recently shaved with 1-2 mm of hair exposed. Not being able to wax or pluck your hair isn't as big of a deal during the winter and spring as it is during the summer.
What Areas Can Be Treated?
The good news with the best laser hair removal treatments is any area of the body can be treated. So whether you just want hair removal for legs or your back, you can get it done. Some of the most common areas people get treated include the:
Back

Legs

Underarms

Upper lip

Bikini line
How The Laser Hair Removal Process Works
The laser hair removal process works by sending a laser beam into the skin that targets individual hair follicles. When the follicle absorbs the laser light, it permanently damages it so it won't grow again. And since the laser is targeted, you won't have to worry about your surrounding skin being impacted. The side effects are minimal, especially when you follow the post-care plan set forth by your medical professional.
How Many Treatments Are Required?
Your hair must be actively growing for permanent hair removal treatments to be most effective. But what many people aren't aware of is that your hair grows at different times. So as a result, multiple laser hair removal treatments are required to ensure all hairs are permanently removed. It's difficult to know exactly how many treatments you will need since everyone's hair grows at different paces. However, after a consultation with your medical professional, you will have an idea of how many treatments you will need so you can plan accordingly. Since multiple treatments are likely, you can better understand the importance of starting them in the winter and spring so you won't have to undergo treatments in the summer.
Can Anyone Get Laser Hair Removal Treatments?
When you work with qualified and experienced medical professionals who use the best laser technology, treatments are safe for all skin types. However, you should talk to your medical professional about any conditions or diseases you have, as well as any medications you take. Laser hair removal treatments are highly effective, but you want to ensure it's safe for you to receive them.
Caring For Your Skin Before And After Treatments
Before your permanent hair removal treatment, avoid plucking or waxing your hair 4-6 weeks beforehand. And shave about a week before your treatment. You should also avoid extensive sun exposure so your skin doesn't get burned. It's also ideal to avoid any spray tans for four weeks before your treatment.
After your treatment, you might experience slight itching or skin irritation in the treated area. Applying a cold compress or other topical treatments as recommended by your medical professional can help ease the discomfort. Keep your skin as cool as possible for the first few days and only use creams or lotions approved by your medical professional. You should not experience any major side effects or complications as long as you take care of the treated area.
Always Work With Qualified And Experienced Medical Professionals
With laser hair removal being such an effective treatment, plenty of facilities claim to be the best. While you don't have to know everything there is to understand about laser technology, you should come ready to ask questions during your initial consultation. Ask about the qualifications of the medical professional who will perform your treatment. It's important to know how many they have completed and view some before and after photos if possible. When you're dealing with your skin, you can never be too cautious.
Skin Deep Laser Services offers only the best laser technology and skilled medical professionals to use them. Our goal is to help our clients achieve their skincare goals in the safest and most effective ways possible. Laser hair removal is one of the most popular treatments we administer and now is the perfect time to start yours. The first step is booking a consultation with our team, so contact us today to begin the process.