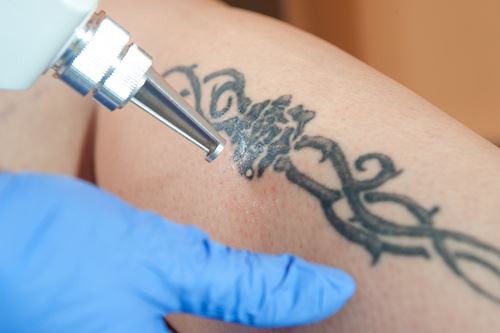 While it's completely understandable for people to have fears of scarring and blistering following a laser tattoo removal treatment, following the proper steps can make the process seamless and safe. One of the main reasons why people do sometimes experience scarring is because they either did not work with a qualified professional or did not follow the aftercare steps closely. So while it is possible to see scars or blisters after your laser treatment, here are a few ways to minimize the risk of them occurring.
Only Work With An Experienced Professional
The biggest mistake people make is opting to work with an inexperienced technician for their laser tattoo removal treatment. When you're dealing with a laser treatment on your skin, it's worth the extra cost to have an experienced and certified professional do the treatment. Cheaper lasers could cause permanent damage to the skin and leave you with lasting scars. Before you agree to a treatment, ask the professional for their qualifications, certifications and even ask to see some laser tattoo removal before & after photos to give yourself peace of mind.
Minor Blistering Will Subside After The Treatment
When an experienced professional administers the laser treatment, you'll likely notice some minor redness, swelling and small blisters immediately afterward. However, these should subside within a matter of hours when you're resting comfortably in your home. It's also possible to experience pinpoint bleeding depending on your skin type and other factors. Your medical professional will give you complete instructions on what to do and what not to do following your laser tattoo removal treatment.
Follow Aftercare Instructions Closely
The most important thing you can do to prevent scarring and blistering is to follow the aftercare instructions provided by your medical professional closely. These instructions may include limiting activities for a day or two after the treatment, placing an ice pack on the treated area, avoiding sun exposure for a period of time and more. Your skin will likely be flaky, itchy and dry for a few weeks after your laser treatment, but it's important that you don't pick at it. Your medical professional will give you some options to help you deal with any discomfort safely and without irritating the treated skin.
Skin Deep Laser Services prides itself on offering the best laser tattoo removal treatments, as well as completing the treatments in the safest ways possible. We will always evaluate each client thoroughly to ensure there are no underlying health risks that could create complications with the treatment. It's also important to us to be completely transparent with our clients throughout the process so they know exactly what to expect. If you have any questions or concerns about getting your unwanted tattoo removed, feel free to contact us at any time.