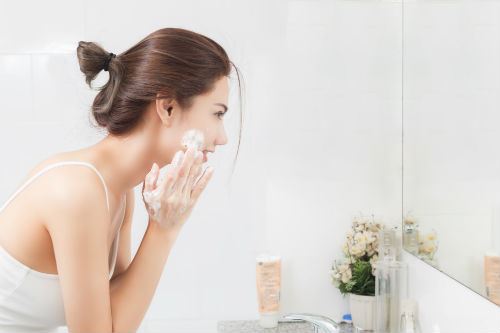 No matter how tough or sensitive your skin is, it deserves to be cared for on a daily basis. This doesn't necessarily mean you need to invest in an entire product line of skin care products, but being conscious about your skin care habits is essential. If you've dealt with acne in the past, now may be the time to consider acne scar revision. Or if you don't feel confident with skin blemishes of any kind, a laser skin resurfacing treatment can get your skin back on track. These procedures may not be necessary, but they can give you a solid foundation for healthy skin, and you can continue on by incorporating these daily skin care habits.
Clean Your Skin Daily
There's nothing like a warm bath or shower at the end of the day to feel great before going to bed. Most people clean their skin every day, but may be using harsh chemicals to do so and not even realize it. Water and mild soap with a soft washcloth can work wonders in cleansing the skin. If you need something stronger, then consult with your medical professional to determine what would enhance your particular skin type without creating any issues. You may even consider getting a chemical peel to remove old layers of skin, so your skin care products will work more effectively.
Drink Enough Water
We all know drinking plenty of water every day is good for our health, but it's also great for our skin. Hydrated skin looks fuller and reduces the amount of skin blemishes you have, particularly when it comes to large pores. And if you're considering a treatment like laser skin resurfacing, you'll achieve much better results if you have hydrated skin.
Wear Sunscreen
Sunscreen should be worn any time you'll be out in the sun. Too many people only wear it when they'll be out in it for an extended amount of time, and some may not wear it at all in the cooler months. It doesn't matter how warm it is outside. The sun's rays can damage your skin when it's exposed to it, so always carry around sunscreen with you and apply it when you'll be out in the sun.
At Skin Deep Laser Services, we believe small daily habits can lead to great looking skin. Of course, some clients in Washington DC, Alexandria, Fairfax or Arlington, VA may need a laser skin resurfacing treatment or a chemical peel to rejuvenate the skin first. These treatments can provide a great foundation for healthy skin moving forward, and we are here to help. Don't hesitate to contact us at any time to see how we can help you have the skin you've always desired.