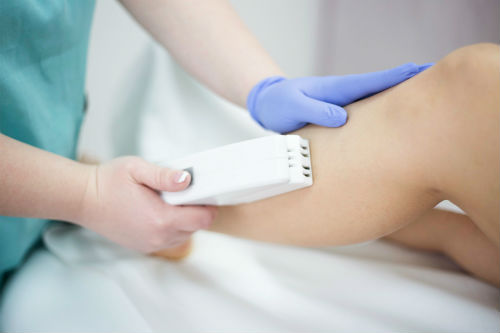 When it comes to laser hair removal, two of the most common questions people have about the process are "does laser hair removal hurt?" and "how long will my results last?" There is very little discomfort people will experience during the procedure. As far as the results go, people can expect to see results after the first treatment, but will very likely need to come in for multiple treatments. Everyone wants to see results immediately and wants them to last a lifetime, so let's take a look at the proper expectations.
Individual Treatments Take A Matter of Minutes
When you're talking about individual laser hair removal treatments, people can be in and out of the office within a matter of minutes. The exact duration depends on the size of the area being treated, but you shouldn't expect to go through a single procedure for more than about ten minutes.
The reason clients have to come back for multiple laser hair removal treatments is the hair has to be actively growing in order to be effective. And since the hair does not actively grow at the same rate, multiple treatments spaced out over the course of several months are required most of the time.
Results Can Be Nearly Permanent
Clinical studies indicate laser hair removal procedures are about 90% effective when it comes to permanently reducing hair. This makes the procedure the best hair removal procedure you can find anywhere. Over the course of the treatments that can take several months to complete, you will experience smoother skin and not have to worry about shaving, waxing or using any other hair removal products again.
The Type of Laser Makes A Difference
Of course, the type of laser used for any laser hair removal treatment makes a difference, as well as the skills of the medical professional administering it. The Quanta Pronto Diode Laser is one of the most effective lasers on the market today, and is proven to be more effective in reducing hair count when compared to other lasers. The speed, accuracy and effectiveness of the laser is what sets it apart, so the best medical professionals use it to create optimal results for their clients.
Skin Deep Laser Services only offers the best technology, equipment and services to their clients in Washington DC, Alexandria, Arlington and Fairfax, VA. Our laser hair removal treatments are safe and effective, and we utilize the Quanta Pronto Diode Laser to achieve the best results. To learn more about whether laser hair removal is right for you, contact us today to schedule a consultation.