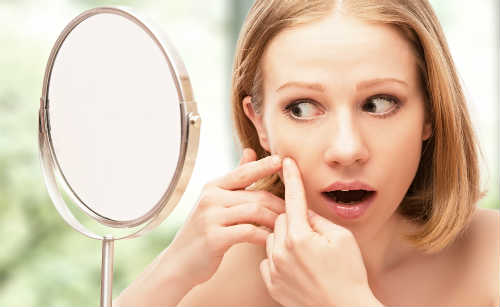 Everyone has their own skincare routine they follow. Sometimes it's easy to get out of a routine and make a minor mistake. Many times these mistakes won't lead to any significant consequences, but if the mistakes become habitual, then it's possible you'll need to intervene at some point. The good news is CO2 fractional laser resurfacing is available if skin blemishes appear as a result of poor skincare habits. Here are some of the skincare mistakes you may be making and not even realize it.
Exfoliating Too Much
Exfoliating is great for your skin. It not only cleans out the skin's pores and removes dead skin cells, but it also can help increase circulation to improve skin tone and texture. However, exfoliating too much can lead to skin problems like dryness, redness and more. Getting a chemical peel facial once every few weeks or so will create the results you desire, without any of the consequences.
Picking At Acne
It's tempting to pick at the acne on your face or anywhere else on your body. Any time you pick at, scratch or pop acne or blackheads, it's possible it could turn into a scar or cause other problems. Depending on how much acne you have, acne scar revision treatments may be needed to clear up your skin again. Picking at acne can quickly become a habit, so try to avoid it as much as possible to improve and maintain healthy skin.
Sleeping With Makeup On
Sometimes it's just too much effort to take off your makeup at the end of a long day, so you opt for going to sleep with it on. While this may not be harmful occasionally, it's definitely not recommended to make it a habit. Acne could potentially develop over time if you do make it a habit, and your skin tone and texture could also change. A chemical peel facial could correct some of the issues, but it's best to take few minutes every night to remove the makeup before going to sleep.
Not Wearing Sun Protection on The Skin
If you spend any amount of time in the sun, your skin needs to be protected. Exposure to the sun's rays over time can lead to the skin looking older than it is, and potentially causing sun damage. Many CO2 fractional laser resurfacing procedures are needed due to sun damage on a person's skin. The good news is the damage can be revised with this procedure, but do yourself a favor and protect your skin from the sun as much as possible to prevent long-term problems.
Skin Deep Laser Services serves clients in the Washington DC, Alexandria, Arlington and Fairfax, VA areas. Everyone makes skincare mistakes, so don't feel alone if you find out you've been making some. Whether you need a chemical peel facial, acne scar revision or any other treatment, you can trust us to make your skin look youthful and beautiful again. Feel free to contact us at any time to learn more about our services or to get more skincare advice.