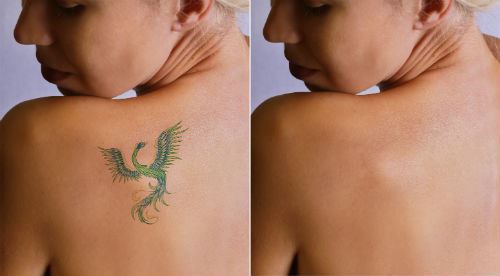 When the time comes to finally remove the tattoo you've been wanting to get rid of, winter is the best time of year to do it. Of course, you can go through the laser tattoo removal process any time of year, but there are many more benefits to doing so during the winter.
Getting a tattoo removed doesn't take too long when your medical professional uses a Quanta Q Plus C laser, but it does take time for the pigments from the tattoo to become completely removed. Since your skin is covered up most of the time in the winter anyway, it's the best time of year for laser tattoo removal. Here are other benefits for getting your tattoo removed in the winter.
Hide Your Gradually Fading Tattoo
A tattoo can take several weeks or months to be completely removed, depending on the size, location and color of it. Just take a look at any before and after tattoo removal photos and notice the time lapse. The pigments of the tattoo will gradually fade away over time, so winter is a great time to begin treatments, since you'll likely be wearing long sleeves and pants anyway. A faded tattoo doesn't look very attractive, so being able to hide it throughout the process is one thing many clients appreciate.
Reduced Sun Exposure
When you go through laser tattoo removal, it's important to reduce the amount of sun exposure the affected area gets as much as possible. The skin will be more sensitive and vulnerable to sunburn, which can create complications with the removal process. Since the skin is covered up more in the winter, the risk of sun exposure is reduced significantly and can make the recovery process much easier.
Reduced Risk of an Infection
Infections are possible following a laser tattoo removal treatment, simply because the skin is so vulnerable. Since fewer outdoor activities take place in the winter, the risk of getting an infection in the vulnerable area is reduced. This leads to a much easier recovery and can speed up the process of removing the tattoo completely.
Have Great-Looking Skin When Spring and Summer Arrive
If nothing else, winter is the perfect time for laser tattoo removal so you're ready to expose your skin when the temperatures begin rising. The skin needs to be protected following tattoo removal treatments, which can put a damper on spring and summer activities. However, when you use winter to recover and protect the skin, there's a great chance you will be ready to go when the outdoor activities start occurring again.
Skin Deep Laser Services uses the Quanta Q Plus C laser for the most effective tattoo removal procedures for clients in the Arlington and Washington D.C. areas. Winter is the best time to get your unwanted tattoo removed, so don't hesitate to contact us today to schedule a free consultation and get the process started.