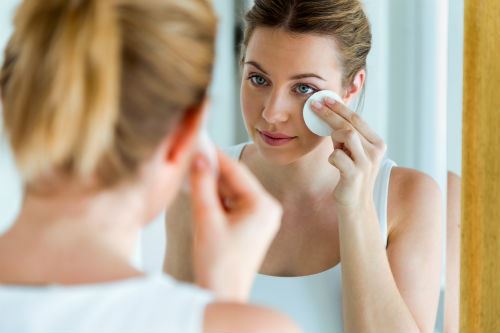 People choose to get laser skin resurfacing treatments for many different reasons. Whether you want to look a little younger, reduce scarring, improve skin elasticity or just make your skin texture look better, there's no better way to do so than with a fractional CO2 laser treatment. And regardless of your reason for getting treated, the aftercare is one of the most important parts of the process. Your skin will be slightly sensitive and vulnerable to different elements and products, and your medical professional will provide you with information on how to properly care for the treated area. Here are some of the most basic aftercare suggestions for your skin.
Clean The Skin Gently
Gently cleaning the skin means using a soft washcloth as well as using a mild cleanser that doesn't include harsh chemicals. Depending on how strong the fractional laser skin resurfacing treatment was, your medical professional may suggest using a saline solution or other cleanser. And sometimes simply using water is the best way to wash away any dirt and keep the area clean.
Avoid Sun Exposure
Your skin will be sensitive immediately following the fractional CO2 laser treatment, and could continue for a few days afterward. Sunburn can happen much easier if you expose your skin to it right after treatments. The best thing to do is avoid getting out in the sun as much as possible. But if you must be out in the sun, try to stay in a shaded area to the extent you can and wear a hat or other protective clothing for good measure.
Moisturize
While it's important to moisturize the skin following laser skin resurfacing treatments, your medical professional will recommend a certain type to use. The right moisturizer will not only keep the skin hydrated, but also protect it from dirt and germs to help the recovery process move more quickly and prevent any complications.
Stay Hydrated
Hydration is a critical factor when it comes to recovering after laser skin resurfacing treatments. Drinking plenty of water will help reduce any swelling you experience, as well as replace any fluids that may have been lost during the treatment process. Your skin needs to be well hydrated in general to be healthy, and it's especially important to prioritize hydration after a fractional laser skin resurfacing treatment.
Skin Deep Laser Services is here to guide you through every step of the laser skin resurfacing process. Our clients in Washington DC, Alexandria, Fairfax and Arlington, VA are important to us, so we will ensure you're prepared for the treatment, are comfortable throughout the treatment and experience minimal side effects afterward. To learn more about laser skin resurfacing in general, or if you have any specific questions, don't hesitate to contact us at any time.