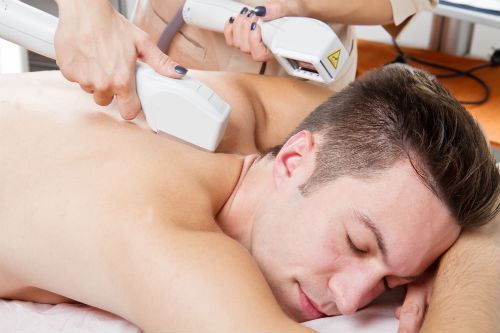 Maintaining body hair isn't just for women. Men have to constantly shave, wax or pluck their hair, which is why many of them are considering laser hair removal as a viable option. As more men see the benefits of laser hair removal, they are beginning to be more open to the idea of treatments. Not only does it significantly reduce or eliminate the need for shaving all the time, but it can make the skin feel and look better overall and save a significant amount of time. Here are some of the main reasons why men are considering laser hair removal today.
Show Off Physical Attributes
It's tough to show off your physical attributes when your body is covered in hair. You deserve to show off your beach body if you have one or to simply feel comfortable with your shirt off. This is one of the main reasons why men are choosing back hair removal. They no longer have to feel self-conscious about the amount of hair on their body and they can enjoy having smooth skin they can be proud of.
Reduce Sweating, Which Can Lead To Fewer Breakouts
Excessive hair on the body can increase sweat, which can lead to breakouts on the skin. Since laser hair removal treatments target individual hair follicles, it's much more effective than shaving, plucking or waxing from that aspect. The development of ingrown hairs is essentially eliminated with laser hair removal treatments, and acne breakouts can be reduced significantly as a result. Plus, men who work out or play competitive sports often, having a lot of hair on the body can interfere with performance. Removing body hair can help regulate body temperature, decrease friction when wearing a shirt and make for a much more comfortable experience.
Save Time And Money
Finally, laser hair removal treatments can save men time and money in the long run. When you work with a facility that uses the Quanta Pronto laser, you may only need to go in for a few treatments over the course of several months in order to see permanent results. Compare this with shaving or waxing, where you have to constantly buy supplies and equipment and spend several minutes each week performing the action. The time and money will add up over time, but can be given back to you with just a few laser hair removal treatments.
Skin Deep Laser Services offers the best laser hair removal treatments to clients in Washington DC, Arlington, Fairfax and Alexandria, Virginia. Men often ask us why they should consider laser hair removal as opposed to other hair removal methods. When they see the immediate and permanent results, all of their questions are typically answered. If you've considered laser hair removal before and aren't sure if it's right for you, contact us today to set up a consultation with one of our medical professionals to get a complete evaluation and to have all of your questions answered.