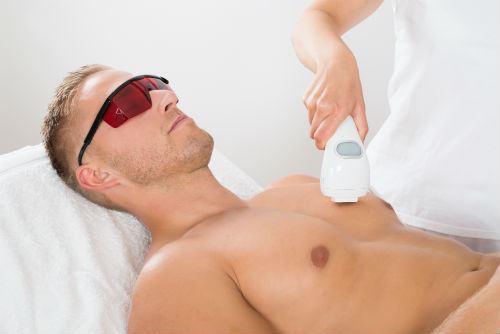 Some men embrace their chest hair, while others can't stand it. At the very least, maintaining the hair on your chest can be a time consuming, but necessary, process. Shaving is far from being a permanent solution, and waxing isn't ideal for most men. However, laser hair removal for a man's chest is quickly becoming one of the most popular procedures because it's quick, virtually painless and the results are more permanent than any other treatment option. Here are some of the facts to consider if you've ever thought about laser hair removal.
Treatments Are Quick
With the right technology, laser hair removal treatments are a breeze. The Quanta Pronto Diode Laser is the top laser on the market right now to provide the best hair removal results. It also helps that it's the fastest on the market, and is known for having the ability to treat a grown man's back or chest in about 10 minutes. And when compared to other hair removal options, laser hair removal is virtually painless and much more effective in both the short-term and long-term.
Hair Must Be Actively Growing
One of the key factors about laser hair removal is the hair needs to be actively growing in order for the treatment to be effective. All hair doesn't grow at the same rate, so clients can't expect to see permanent results after a single treatment. However, studies have indicated laser hair removal treatments to be up to 90% effective in reducing hair permanently when treated by a qualified medical professional. Since there are different phases of hair growth, it's important to discuss the process with your medical professional to set proper expectations and understand exactly how the treatments are effective.
Several Treatments Are Required For The Best Results
Since hair does not all grow at the same time, men will need to get multiple treatments to achieve the best results. It's difficult to predict how many sessions you'll actually need, since factors like the length of the hair, the size of the affected area and other things all have to be taken into consideration. Your medical professional will provide you with a realistic timeline to ensure you're not only working to eliminate your chest hair, but also doing so safely.
Skin Deep Laser Services provides affordable laser hair removal services to clients in Washington DC, Fairfax, Arlington and Alexandria, VA. We understand many men are hesitant to pursue laser hair removal treatments for their chest hair, but every man that completes treatments with us wishes they had done it earlier. Not only will you look better with smooth skin, you'll feel much better too. To learn more about our chest hair removal procedure and how it can apply to you, contact us today to schedule a quick and free consultation.