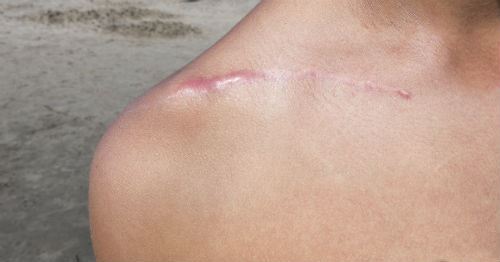 How Laser Scar Revision Can Help You
People can get scars from many different sources. Scars can occur from acne breakouts, injuries, previous surgeries and more. You may want the scars gone right away, or you may decide to allow the scars to heal on their own and hope they disappear over time. A common feeling among our clients is they want to reduce the appearance of their scars as quickly as possible, especially if the scars are visible on their face, neck or other exposed areas. This is where a laser scar revision treatment can help.
Clear Up Different Types of Scars
A scar revision procedure can clear up virtually any type of scar on the skin, including:
Rolling scars
Ice pick scars
Boxcar scars
Keloid scars
Hypertrophic scars
Contracture scars
Your medical professional will help you identify the type of scars you have on your body. These scars could be minor in nature or could have been caused by a serious injury or burn. A single laser scar revision treatment can drastically reduce the appearance of these scars, and could make them virtually disappear depending on the size, location and severity.
Feel More Confident In Your Skin
There's also an emotional aspect of how laser scar revision can help clients. No matter how long you've dealt with your scars, there's nothing like having clear and smooth skin. So when you begin seeing results immediately after getting treated, you'll feel a great sense of confidence. Many clients have stated they've hidden certain parts of their body due to embarrassing scars, but are able to feel more comfortable in their skin after a scar revision procedure.
Enjoy Improved Skin For Years
Clients enjoy the immediate results provided by laser scar revision, but it's the ongoing skin improvement that really makes the procedure worth it. The body will continue working to replace old or damaged cells with new ones, so results will keep improving over the course of six months or so. And by taking care of your skin as directed by your medical professional, you could realistically have great looking skin for years to come. Of course, the results will occur slowly over time, but when you see your own scar revision before and after photos, you'll be amazed at how well the procedure worked for you.
At Skin Deep Laser Services, we want our clients in Washington DC, Alexandria, Fairfax and Arlington, Virginia to feel confident in their own skin every day. Unsightly scars on the skin is a the main reason why people don't feel comfortable, and we are here to help. If you've ever felt this way, feel free to contact us to schedule a consultation to see if laser scar revision is right for you. It could be your first step to feeling great in your own skin again.