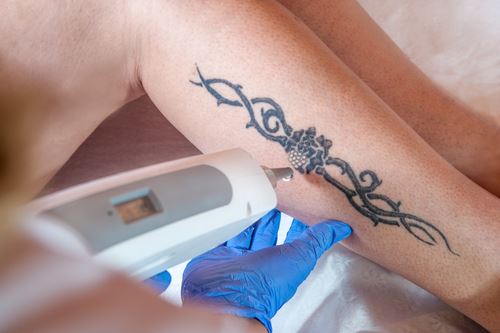 When you've decided it's time to get your unwanted tattoo removed, the initial consultation with the professional is critical. This is the time to ask every question imaginable so you know exactly what's going to happen and what your skin will look like afterwards. The tattoo removal process is a little more extensive than getting a tattoo inked on. But sometimes getting the tattoo removed is just as easy and your skin will look back to normal. Here are five of the most common questions asked about laser tattoo removal.
1. What's the Laser Tattoo Removal Procedure Like?
The lasers will break the ink particles into tiny pieces until it gets to the point where your body removes the ink because of your immune system. This is why multiple treatments are necessary in order to make your skin look normal again. Many people believe tattoo removal is just as quick and easy as it was to get the tattoo inked on in the first place. But that's simply not realistic.
2. How Painful is Laser Tattoo Removal?
Most laser tattoo removal patients in Arlington and Alexandria, Virginia, say the removal process is about as painful as getting the tattoo on in the first place. There is a certain level of pain and discomfort, but not many people find the pain to be unbearable.
3. Will My Skin Look Natural Again After Laser Tattoo Removal?
This depends on a variety of factors, including the size of the tattoo, the location and your skin type. Your skin shouldn't scar very much during the laser tattoo removal process, but it may not look the exact same as it did prior to getting the tattoo applied.  You will notice throughout your laser removal treatments that your skin is lightening and/or scarring.  Scarring is highly unlikely if you choose a professional who is utilizing the Quanta Q plus C laser.
4. What Are the Side Effects of Laser Tattoo Removal?
Every patient will experience some level of side effects during and after the procedure. These include swelling, redness, blistering, scabbing, tenderness, hypopigmentation and hyperpigmentation. The good thing about these side effects is they are temporary and will go away in a matter of a few days or a couple weeks at the most.
5. What Does the Laser Tattoo Removal Procedure Cost?
In general, the laser tattoo removal cost can be pretty high. A single treatment will cost an average of about $100. And unless the tattoo is extremely small and located close to your lymph nodes, you can expect to have around 10 treatments or more before the removal process is complete.
Knowing exactly what you're getting into with your laser tattoo removal will make the process seamless. For more information or tips on how to make your procedure run smoothly, be sure to contact us.