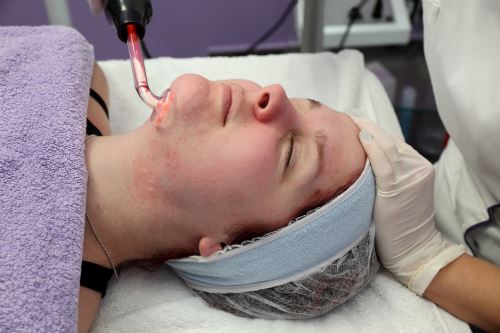 Dealing with acne can be frustrating and annoying, especially when you experience acne scarring as a result. There are plenty of creams and home remedies you can try to clear up your acne, but many of them don't deliver the results most people hope for. With acne scar laser treatments, you'll be able to soften the appearance of your acne spots and scars within a matter of minutes. The laser beam targets all area's of the skin including the affected area, but don't worry about damaging any clear skin. You may be wondering, "Exactly how effective are these laser treatments?" Here are a few things to consider.
Multiple Treatments Deliver Better Results
Depending on the severity of your acne, an acne scar revision procedure may have to be done multiple times in order to truly revise the appearance and texture. In fact, we suggest spreading out the acne scar laser treatments to give the skin time to recover and heal in between procedures. Clients getting multiple treatments generally have better long-term results than clients receiving just a single treatment.
Clear Up Acne Scars
Acne scars are difficult to deal with, but laser scar revision can help tremendously. The laser beam used during the process uses a pulsed laser to break down the tissues in the skin of the affected area. This allows and promotes new skin growth while getting rid of the damaged skin produced by acne scars. Most acne scars can be beautifully revised in a few treatments.
Treat Acne Without Damaging Skin
One concern people have is damaging their clear skin with the laser as a result of the procedure. The technology used in acne scar laser treatments allows professionals to target the affected areas without harming clear areas of the skin. In fact, even your clear skin will receive brand new skin growth! There is no need to worry about skin damage with acne laser treatments when you work with a qualified professional.
Results Can Vary
While laser scar revision is currently the best option for treating acne scars, results can still vary. Some of the variables include skin tone, skin color, severity of the acne scars and more. Your technician should be able to give you an estimated timeframe of seeing results when you have your initial consultation. However, your skin may react differently than expected during the course of the treatments, so the timeframe and results could vary. Keep in mind your results will look the best approximately six months after your treatment.
Skin Deep Laser Services offers the highest quality acne laser treatments so our patients can have the clear skin they desire. Be sure to contact us to set up your initial consultation to discuss how effective acne laser treatments can be for you. Our services extend to everyone residing in the Annandale, Alexandria and Fairfax, VA areas.