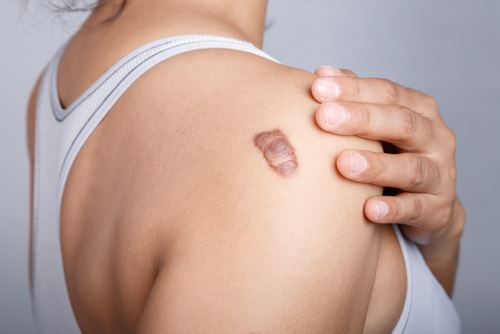 If you've noticed a small growth on your skin in the area where you previously had a wound, you may have developed a keloid scar. Keloids are a result of an overgrowth of scar tissue that generally develops around where a wound was previously located. The problem with keloids is they can sometimes grow more widespread than just within the borders of the wound itself. Besides being irritating and unsightly, keloids don't pose a particularly serious health risk to people who get them. They are common enough where there is some good information on the symptoms of keloids and how keloid scar revision works.
Who Usually Gets Keloids?
Although keloids aren't extremely common, there are enough studies to determine who most commonly gets them. They are generally more common with people who have darker skin. The exact cause of keloids isn't directly known, but the risk of getting them increases if an infection occurs in an area where there was an open wound. Many medical professionals believe getting keloids are genetic as well. In severe cases, keloids can turn into scars, so many people choose to undergo a scar revision procedure to clear their skin.
Symptoms of Keloids
Symptoms of keloids generally don't come up right away. The timeframe can be anywhere from three months to one year after the skin damage before any signs begin to show up. The first symptom is a bump on your skin that feels somewhat rubbery. It will grow on or near the location of the skin damage, and you may feel some itchiness, tenderness, some pain or burning.
Keloids can continue to grow over the period of a few months, but they will stop growing once they reach the maximum size. The size of a keloid can vary, but the larger it grows, the larger the scar will be. Luckily, laser scar revision is possible to remove the scar and have your skin looking healthy again in no time.
Treatment Options for Keloids
Keloids may get smaller on their own over time, but most people will need some form of keloid scar revision to remove them completely. The most effective treatment option is laser scar revision, but other alternatives include surgery, cryotherapy, steroids, radiotherapy and others.
Skin Deep Laser Services offers the best scar revision procedure in the industry and the procedure includes keloid removal. If you have an unsightly keloid you want removed, be sure to contact us for a free consultation and to set up an appointment. Our services are available to everyone in the Springfield area.