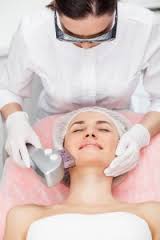 If you're tired of blemishes covering your skin, then laser skin resurfacing may be for you. Laser rejuvenation is one of the best ways to rid your skin of the damage caused by aging, sun exposure, and bad lifestyle habits. You can improve the quality, texture, and color of your skin – no matter your age!
Why You Need Laser Skin Resurfacing
Not everyone needs these types of treatments. If the effects of aging have taken a toll on your skin, you may. If your skin is wrinkling around your eyes and mouth due to sun damage, laser skin resurfacing may be the solution. If you have blotchiness, brown spots, or age spots, then this treatment could be a great option for you.
Scars from surgeries in the past also bring a need for therapies like laser skin resurfacing. Stretch marks can be treated too with Co2 laser rejuvenation.
The Benefits of Laser Rejuvenation
With the vast number of uses for such a laser, you can expect there to be a variety of advantages to rejuvenation:
Skin tightening
Skin smoothing
Improved skin quality
Better skin texture
Long-lasting results
The Downside to Laser Rejuvenation
While there are many benefits to laser skin resurfacing, the treatments are not perfect. There are some downsides to the therapies, including:
Possible pigment changes
Odd healing patterns resulting in scarring
Allergic reactions are rare, but can occur
Wrinkles caused by facial movements can reappear over time
Are You a Good Candidate for Laser Skin Resurfacing?
To determine if you could get laser skin resurfacing treatments, you first need to consider your overall health. The best candidates for such therapies will be in good general health and have a positive attitude. Expectations are understandable, but they must be realistic.
Individuals with sun-damaged skin resulting in leathery texture and fine wrinkles will find this treatment to be a fantastic option.
If the skin around your eyes is wrinkled and stretched, you could be an excellent candidate for laser rejuvenation.
Blotchy skin with brown spots can be quickly cured (in most cases) with 1 to 3 lasers treatments.
Vertical wrinkles around the mouth also make you a good candidate for this treatment.
If the surface of your skin is uneven due to scarring, then you may find great benefit in these procedures.
Laser Rejuvenation in Washington, D.C.
If you're in the Northern Virginia or Washington, D.C. areas and are looking to repair your skin issue and look younger – look no further! At Skin Deep Laser Services, we specialize in curing a variety of skin issues through our innovative laser skin resurfacing treatments. Get in touch today to learn more. It's never too late to start looking younger!