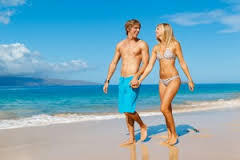 Summer is here and you're ready to hit the great outdoors. Sunning and swimming may be calling your name and that means it's swimsuit season.
Wait, what?
You may not want to put on your suit just yet. If the thought of wearing a bathing suit makes splashing in the waves sound less than appealing, you are not alone.
Stretch Marks Got You Down?
Many people have had similar thoughts this summer season. The idea of a refreshing dip during a hot summer day is destroyed by the dread of wearing a swimsuit in public. And one of the main culprits for this feeling is stretch marks.
If you were recently pregnant or had a weight change, you may find stretch marks on your body. These bothersome lines are common to millions of Americans and can be unsightly. Luckily, there's a solution.
What is a Stretch Mark?
A stretch mark is a red, white, or pink line on the skin that occurs due to rapid change in weight. Often, people find stretch marks during or after pregnancy. Many individuals also get stretch marks after they gain weight quickly. Basically, a stretch mark occurs when the skin is stretched too rapidly. Puberty is another time stretch marks occur.
To the layperson, a stretch mark is caused when the skin is stretched too far, too fast, or both. Stretch marks occur when the deepest layers of the dermis are torn and broken. This collagen layer ruptures the skin's surface and creates lines. Early stage stretch marks have coloring, usually red or purple. An old stretch mark will often be white.
How to Get Rid of Stretch Marks
These unsightly marks are one of the most difficult blemishes to get rid of. The only non-surgical option for individuals looking to lose their stretch marks is laser stretch mark removal therapy.
Laser stretch mark revision is a quick and relatively painless process. The treatments typically take 30 minutes or so. People highly susceptible to scarring should speak with a laser stretch mark removal professional before using removal therapies. The best laser for this treatment is the fractional Co2 laser.
Laser Stretch Mark Removal In Northern Virginia 
If you're tired of your stretch marks then get in touch with the experts at Skin Deep Laser Services. As the premier stretch mark removal clinic in the Northern Virginia and Washington, D.C. areas, we specialize in offering painless fractional Co2 laser treatments. Before you know it, you'll be ready to rock your summer body!