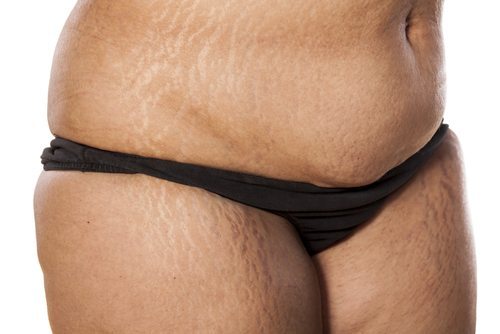 Imagine looking in your mirror and tracing over the dark lines crawling across your body—your torso, your legs and perhaps even your stomach. They've been there for longer than you remember, and they've controlled your life for just as long. You can't recount just when they appeared, you hate the sight of them, and their mere existence forces you to cover up with more conservative clothing and perhaps even avoid certain social settings.
For many women, this is a reality caused explicitly by their stretch marks. Women all across the country and the globe wish to be rid of their stretch marks once and for all. Luckily, there are all sorts of methods to take care of this all too common blemish. In this article, we'll go over how to remove stretch marks by comparing two of the top methods.
Laser Treatments
Laser stretch mark removal is widely considered to be the most costly procedure in terms of both money and time. While the name of this treatment may make it sound futuristically efficient, laser therapy for stretch marks isn't quite as instantaneous as it seems. Upon starting laser treatments, you'll have to go into a doctor's office for several months. You can currently choose from three varieties of laser therapy. This includes Excimer, which zaps away the melatonin setting in your skin and renders your stretch marks less dark; Fractional Photothermolysis, which aids your skin in developing more collagen and elastin and is overall more beneficial for epidermic health; Pulse Dye Laser Therapy, which functions similarly to Photothermolysis and is highly recommended for freshly drawn stretch marks, and the fractional CO2 laser. The fractional CO2 technology will not only lighten the color of stretch marks, and shrink the size of the tears, but it also penetrates deep into the skin to remove the scarred tissue.
Creams
Nearly everyone has seen advertisements for stretch mark creams in one form or another. If you're on a budget, stretch mark preventative creams can be one of the best and most convenient options at your disposal. This form of preventative stretch mark removal works by hydrating the skin and making it more elastic so when it stretches it's more pliable and less likely to tear. Retinoids creams are the best creams for treating existing stretch marks, which can help improve the appearance of discolored stretch marks and soothe the skin by stimulating the development of collagen. Collagen basically fills your stretch marks in and reduce the unsightly blemishes. Obtaining this type of treatment merely involves a prescription.
Which Treatment Comes Out on Top?
While the "best" treatment for you depends on a number of personal factors, laser therapy tends to rank as one of the best forms of stretch mark removal treatment for the long term. Although it is more costly, it is also far more effective because it is able to reach parts of your skin that creams cannot. Furthermore, laser removal proves effective for far more than just stretch marks. If you have money and time to spare, we recommend seeking out laser therapy to get rid of your stretch marks once and for all.
The Skin Deep Laser Services team can help you immediately with your own stretch mark related woes by offering you laser stretch mark removal treatments at prices you won't find anywhere else! Don't waste any more time and contact us to learn more about our services and get started on your path to treatment.