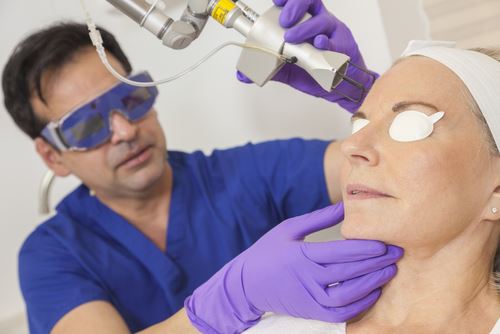 People are beginning to turn to acne scar removal treatments more than ever before. The process of laser acne scar revision has improved over the years with the use of CO2 lasers. Of course, the severity of the scarring and your skin type are important factors to consider as you think about getting CO2 laser treatments. Most people in the northern VA area have a lot of questions about the procedure, but the most common is, "Does laser acne scar revision work?" Here is some helpful information.
How CO2 Laser Treatments Work
The CO2 laser will shoot a laser beam into the skin to remove the old or damaged layer of skin and make room for new skin to grow. The new skin will naturally grow and look fresher and younger. Plus, the acne damage you previously had won't even be noticeable!
The laser acne scar revision procedure takes about an hour for each treatment. Depending on the severity of your scarring, you may have to come in for a few treatments over the span of several weeks or months.
Do Treatments Hurt?
You don't need a high pain tolerance to get CO2 laser treatments for acne scar revision. Most clinics will apply a topical anesthetic to help numb the area and make it nearly painless. You may experience slight discomfort during the procedure, but the pain will not be unbearable. As long as you take care of your skin after the treatment is complete, you shouldn't experience a high level of pain.
What to Expect After Treatments
Your skin's reactions to treatment will depend on where the laser acne scar revision procedure was performed. The face is going to be much more sensitive than the arms so you need to take better care of those areas. You may experience some redness, swelling and discomfort in the treated areas, but those are normal and will go away after a couple weeks. As long as you take professional advice and follow the recovery guidelines provided by your doctor, you shouldn't have any problems or negative side effects after treatments.
People in Fort Belvoir, Virginia, and the entire northern Virginia area have a great place to get laser acne scar revision treatments. For more information or to book an appointment, contact us today.