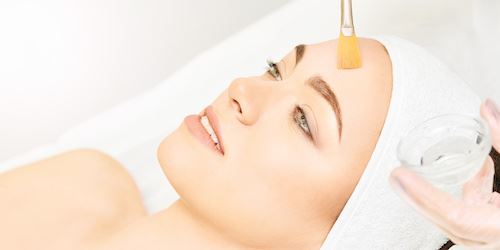 Do you have some skin blemishes in your facial area you want to get rid of? Whether you have some blemishes you're self-conscious about or if you simply just want to look younger, there are great non-invasive treatments available today. Some of the most common skin blemishes treated include:
Acne scars

Wrinkles

Skin discoloration

Enlarged pore sizes

Fine lines

Skin elasticity

Skin texture irregularities
According to the National Center for Biotechnology Information, U.S. National Library of Medicine, laser skin resurfacing and chemical peel treatments are two of the top non-invasive facial rejuvenation procedures offered today. Getting these treatments by a reputable medical professional will increase your chances of receiving satisfying results. Of course, your medical professional can help you determine what the best treatment option is for your skin condition, but we will dive into the details to help you determine which option may be best for you.
Chemical Peels
A chemical peel is one of the most popular non-invasive facial treatments since it takes just a few minutes to administer and is highly effective. Medical professionals will first determine which of the three types of chemical peels you need:
Superficial (light) peel - this chemical peel uses an Alpha-hydroxy acid and targets the outermost layer of the skin and essentially exfoliates the dead skin cells.

Medium peel - this chemical peel uses trichloroacetic acid to target deeper layers of the skin for people with more severe skin damage.

Deep peel - this chemical peel uses Phenol (carbolic acid) to target the deepest skin layers and improve severely damaged skin. This type of peel is very rarely used today.
So how does a chemical peel work? Your medical professional will apply the acid chemical solution to the affected area, which causes an exfoliation process to eventually remove layers of damaged skin and reveal fresh, bright and smooth skin underneath. While it only takes up to 30 minutes to administer the chemical peel, the peeling process can take up to about 12 days to complete.
One of the most attractive parts of a chemical peel for clients is they can generally resume normal activities throughout the peeling process. Your skin may turn slightly pink as the peel is working and mild itchiness and discomfort are possible. Just be sure to follow the post-treatment recommendations from your medical professional to ensure the best results.
Laser Skin Resurfacing Treatments
If you have facial blemishes that make you look older than you actually are, or if you're simply tired of looking at them in the mirror, then laser skin resurfacing could be a great option for you. A single fractional CO2 laser treatment can provide you with impressive results in a matter of a week or two. However, depending on the skin damage you have, multiple treatments may be required over the course of several months.
Melasma is a common skin condition in which laser skin resurfacing treatments can be effective. The National Center for Biotechnology Information, U.S. National Library of Medicine has studied these types of laser treatments extensively as they relate to melasma. While the condition is difficult to treat, studies show laser skin resurfacing as being one of the most effective treatments, according to the NCBI.
Laser skin resurfacing works by sending a laser beam deep through the layers of the skin. The laser creates tiny columns in the skin, which then gets naturally repaired by pushing out old skin and replacing it with new skin. A fractional CO2 laser treatment is targeted, so only the affected area will be impacted. Any surrounding skin will be left intact, which speeds up the healing process. The treatment also promotes collagen growth so you will continue to see great results for up to six months afterward.
With laser skin resurfacing, medical professionals recommend taking the rest of the day off from work, especially if your face was treated. The treated area will be sensitive for several days and the redness will likely subside on its own after about a week. There aren't many major side effects to be aware of with laser skin resurfacing, but skin redness, pigment changes, minor swelling and minor discomfort are all possible.
Which Treatment Option is Best For Your Skin?
The best treatment option for your skin depends on the type of skin blemishes you have, your skin type, tone and other factors as determined by your medical professional. In general, a chemical peel is suitable for people who have minor scarring, but mostly skin surface blemishes like uneven tone, texture, hyperpigmentation, fine lines and wrinkles. On the other hand, laser skin resurfacing treatments are usually best for more severe acne scars, skin irregularities, deep wrinkles and more.
Regardless of the option you ultimately choose, it's critical to only work with a qualified professional to get treated. Over-the-counter chemical peels can cause more harm to your skin than good, especially if you try to administer it yourself. And regarding laser treatments, an unqualified professional likely won't use high-quality lasers and could potentially cause irreparable damage to the skin. When you're dealing with skin treatments, especially on your face, it's not worth the risk to go with an unqualified professional just because they are less expensive.
Skin Deep Laser Services uses only the highest quality equipment and employs top-notch medical professionals to best serve our clients. There is no simple answer to the question about which non-invasive treatment is the best for you until we do a full evaluation of your skin and medical history. We will ensure that you not only get the best results you expect, but we will also take precautions to guarantee your safety throughout the process. Contact us today to schedule your consultation and start the process of getting your skin looking how you want it to.