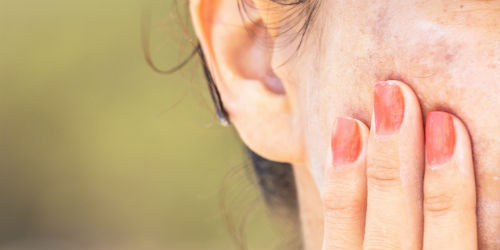 If you're like most people, you spent a lot of time outdoors this summer. Even if you wore sunscreen every time you were in the sun, there's still a chance you developed sun spots, a different skin tone color or other characteristics. Now since the summer months are nearing the end, it's time to start thinking about how you will repair the skin damage you developed. No matter how minor or major the skin damage is, it can be fixed. Sometimes all it takes is a chemical peel treatment, but a visit to your medical professional will help determine exactly what you need.
Try A Professional Chemical Peel
A professional chemical peel can work wonders on your damaged skin. There are three different types of chemical peels available, depending on how severe the damage is to your skin. It works by applying a chemical solution to the area, which begins an exfoliation process to remove the damaged layers of skin and reveal new skin from underneath. While it's tempting to try a DIY chemical peel, the best and safest chemical peel results come from a qualified medical professional administering it.
Consider Laser Skin Resurfacing
Laser skin resurfacing is widely known as an effective way to help you look younger by reducing wrinkles, fine lines, improving skin texture and more. The good news is laser skin resurfacing can also repair some of the skin damage you developed over the summer. This can include unwanted pigmentation, uneven coloration, sun spots and many more. The laser skin resurfacing process works by the laser creating small columns in your skin, which the skin will naturally begin repairing by pushing out the old skin and replacing it with new skin. The result is new and fresh skin that will look better than it did before the sun damage occurred.
Give Your Skin A Break From The Sun
After a long summer with extensive sun exposure, your skin needs a break. Protect your skin from even more sun damage by limiting your time in the direct sunlight. This is especially important if you choose to get a chemical peel or laser skin resurfacing, as your skin will be more sensitive immediately afterward. Your medical professional will tell you the exactly precautionary measures to take after your treatments, but reduced sun exposure is the main one.
Skin Deep Laser Services is the leader in providing the ultimate skin care options for clients in Washington DC, Alexandria, Arlington and Fairfax, VA. We want you to be able to enjoy your time outdoors, especially in the summer months, without having to worry about what your skin will look like. Of course, it's always a good practice to be proactive in protecting your skin, but we are here to let you know there's no skin damage we can't repair. To learn more about our services and why now is the time to pursue them, contact us for a free consultation.