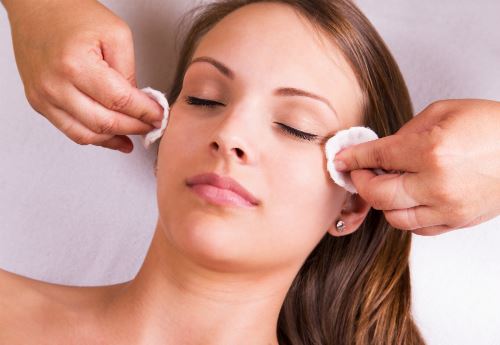 A chemical peel refers to a specific technique used by professionals to treat skin on the hands, neck or face. It gets its name because a chemical is applied to the skin, which makes it exfoliate and then will peel off. The result is skin that looks smoother, less wrinkled and sometimes even younger than it did originally. Many people choose to get a chemical peel facial when they have age spots, acne, skin discoloration, shallow scars or other blemishes. Chemical peels can greatly enhance the appearance of your skin without having to undergo surgical procedures.
Types of Chemical Peels
There are three main types of chemical peels, depending on the severity of your skin blemishes:
Superficial peels use a mild acid to gently exfoliate the outer layer of the skin. People who get this type of chemical peel have minor discoloration or rough skin in certain areas.
Medium peels use a slightly stronger acid to get to the middle layers of the skin. This type of chemical peel can improve wrinkles, freckles, age spots, fine lines and skin discoloration.
Deep peels use a stronger acid to deeply penetrate the skin to get to the root of damaged skin cells. The deep peel is only designed for treatments on the face to remove freckles, acne, shallow scars, age spots and moderate lines.
Preparation and Side Effects of Chemical Peels
While a chemical peel doesn't seem like a serious procedure, it's important to see a specialist for an evaluation prior to getting treatment. The specialist will have to determine whether your skin is damaged enough to need a chemical peel. Undergoing a chemical peel treatment when you don't need it could lead to further skin damage.
There are very few side effects from chemical peels. Most people only experience some sensitivity to sunlight for a few days, temporary changes in skin color, minor scarring and the possible reactivation of cold sores in the targeted area. These side effect will subside after a few days or weeks.
Recovering From a Chemical Peel Treatment
Your recovery time can vary based on the type of chemical peel treatment you get. A superficial peel treatment can take up to one week to completely heal, while a deep peel treatment may take up to three weeks. Generally all patients need to do is stay out of the sun as much as possible and use a mild lotion, moisturizer or cream on the affected area until the side effects mentioned previously subside.
At Skin Deep Laser Services, you'll get the best chemical peel in Arlington, Annandale, Alexandria and Fairfax, VA. We have experienced professionals to ensure your skin will look great again with minimal side effects. Be sure to contact us to set up your initial consultation.