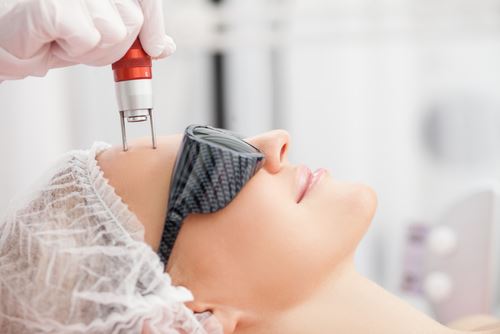 People with scarring, lines, wrinkles, blotches or just general signs of aging sometimes consider laser skin resurfacing to look healthier and younger. Laser skin surfacing is not the only method that people take as a way of getting smoother skin, and many people look more towards cosmetic surgery as their way of trying to feel beautiful. At the same time, many wonder, "what is laser skin resurfacing?"
Laser skin resurfacing is a procedure that removes layers of skin to allow new skin cells to form. Every time people decide whether they want to undergo a laser skin resurfacing procedure in northern Virginia, they want to know if it will work. The success rate is high with these procedures, but it's important to know how it works and whether you are a good candidate.
The Procedure
There are two main types of laser skin resurfacing. CO2 Fractional laser skin resurfacing is the most effective and safest form of skin resurfacing. It's designed to treat a variety of skin problems ranging from wrinkles to acne scars and other conditions. This process uses light pulses or continuous light beams to remove skin layers with minimal heat. The recovery time for a CO2 laser resurfacing treatment generally takes less than a week.
The second of the two types of laser skin resurfacing is erbium laser resurfacing. The erbium laser does not penetrate the skin as deeply as the CO2 laser, meaning there will be more side effects like an increase in redness. However, this also means patients will require many treatments to see results. The erbium laser is generally designed to revise wrinkles and lines on sensitive areas like the face, neck or chest.
Who Are Candidates for Laser Skin Resurfacing?
People in Springfield, Virginia, sometimes wonder whether they can even undergo laser skin resurfacing treatments. Anyone with bodily wrinkles, lines or acne scars could be a good candidate. Due to the advanced technology in the Co2 laser, stretch marks can be considered for laser skin resurfacing candidacy. People with dark skin may run the risk of hyperpigmentation. Always be sure to consult your specialist is northern VA before undergoing either of the described procedures.
What to Expect
Laser skin resurfacing generally isn't too painful, but it can irritate the skin. Some patients will experience redness or swelling in the treated areas, but this is common and should subside in a few days. Patients typically report seeing a vibrant glow from the treated area after 10 days and never want it to go away. Depending on which of the two types of laser skin resurfacing treatments you use, you may need to come back for multiple treatments to fully get your skin looking and feeling like it should.
Many people use laser skin resurfacing to help give them more confidence. Find out more about the process and how it can work for you by contacting us.